Missed periods: Scotland's opportunities for better pregnancies, healthier parents and thriving babies the frst time ... and every time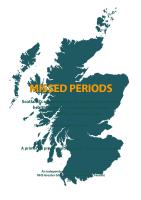 Name:
missed-periods-j-sher-may-2016.pdf
Size:
1.250Mb
Format:
PDF
Description:
A primer on preconception health, ...
Your vote was cast
Thank you for your feedback
Issue Date
2016-01-06
Type
Other
Language
en
Description
NHSGGC's Director of Public Health commissioned this report which expresses the views of its author, not NHSGGC. The report distils the current evidence on the impact of preconception care and has made a number of recommendations for action.
Collections
The following license files are associated with this item:
Except where otherwise noted, this item's license is described as http://creativecommons.org/licenses/by/4.0/